Time to Empower Environmental Innovation
Time to Empower Environmental Innovation
Solving environmental problems requires more than just spending money. It takes political courage to slash decades of built-up red tape standing in the way of the innovators and entrepreneurs who are ready to take on the challenge.
"Underlying most arguments against the free market is a lack of belief in freedom itself." – Milton Friedman 
In the wake of dire warnings about climate catastrophe, a recent article in the Montana Free Press focused on how Governor Greg Gianforte plans to tackle climate change. Gianforte maintains that the best approach to environmental challenges is to remove government barriers to innovation:
"We shouldn't be picking winners and losers, but we can get the friction out of the way so innovators and entrepreneurs can pursue [solutions]."
The Governor is right. Research is clear that the countries with the most economic freedom also have the cleanest environments.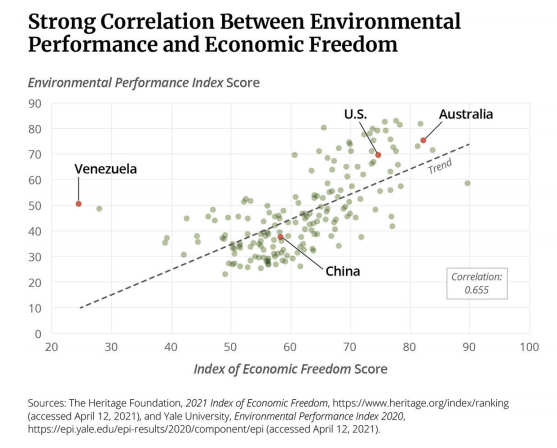 Frontier Institute was quoted in the article as well, echoing the Governor's approach:
"Entrepreneurs are ready and willing to leverage technology to address a lot of environmental concerns, but regulations [and] government often stand in the way of that."
Examples abound for how excessive red tape is holding back environmental innovation.
In the green energy space, a report from Montana State University shows that Montana is ripe for geothermal energy development. However, government permitting regulations, such as those under the Federal NEPA and Montana's Major Facility Siting Act, are some of the biggest barriers to the development of advanced geothermal energy, which could provide reliable and clean baseload power.
Advanced nuclear is another emerging option for green energy development, but it required an act of the Montana legislature this spring to remove regulatory barriers for nuclear facilities to begin developing in Montana.
In a more local example, city regulations are crushing a new small business in Helena focused on environmentally sustainable waste removal.
Solving environmental problems requires more than just spending money. It takes political courage to slash decades of built-up red tape standing in the way of the innovators and entrepreneurs who are ready to take on the challenge.
For Liberty,
Kendall Cotton
…
The Latest
Runaway Spending

Missoula County Commissioners lamented the "broken system" of property taxation as they delivered their proposed budget for FY 2022, which increases spending by $7 million over last year:
"Our property taxes will be going up faster than we can pay them until we can get all the people who use those services to shoulder the burden," said Commissioner Josh Slotnick.
Our Take:
While the Missoula Commissioner's attempt to shift blame for the growing property tax burden, the real issue driving property taxes higher is clear: uncontrolled government spending.
Here's some of the new spending Missoula County proposed this year:
$3,816 to send the County's equity coordinator to graduate school
$12,890 to hire university students to assist with diversity and equity initiatives
$10,000 for a "democracy fellow" to help with election outreach
$95,000 for consultants to support Missoula's goal of 100% clean energy
$24,000 to fund an economic analysis around passenger rail
$25,000 for election night security 
Active Forest Management

Frontier Institute's most recent op-ed elicited a quick response from environmental commentators, who pointed to climate change as the culprit behind massive forest fires and downplayed the effectiveness of active forest management in mitigating the risk of fire:
"The recent editorial by Kendall Cotton of the Frontier Institute represents the misguided assumptions surrounding wildfire. Cotton repeats the timber industry's argument that logging/thinning can eliminate large blazes. Reducing 'fuels' is an attractive argument because it makes intuitive sense. The problem is that it doesn't work, and in fact, can exacerbate fire spread."
Our Take: 
This response reflects some extreme views that are out of step with experts at the U.N.'s Climate Panel and the Federal Government, who recognize Active Forest Management like selective logging, fuel reduction and prescribed burns as key components of fire management and climate change mitigation.
Another note: environmentalist commentators often attempt to straw-man Active Forest Management into just being about logging. It's not. Prescribed burning is another part of active management that is very effective at mitigating fire risk.
Home Health

As new COVID variants are pushing hospital capacity to its limits, Montana is dealing with a shortage of home healthcare services, which can help reduce hospitalizations while still delivering necessary care. 
Our Take:
The legislature's actions to repeal Certificate of Need (CON) regulations will once again prove key to addressing this healthcare shortage. In 2019, Montana denied new CON applications for home health businesses in Yellowstone County, despite the government's own estimate of 795 patients in the county with an "unmet need" for home health care – and that was before the pandemic. Now that CON is repealed, new home health services can begin to help open beds at hospitals, without requiring permission from regulators.