Red Tape Portal Helps Promote Accountability for Regulators
Red Tape Portal Helps Promote Accountability for Regulators
Montana has the second-most regulatory restrictions per capita among its regional neighbors, trailing only Wyoming and being well ahead of Colorado, Idaho and Utah.
Government central-planning means over-riding other people's plans – Thomas Sowell
As we've documented extensively, Governor Greg Gianforte's very first executive order this January set up the Red Tape Relief Task Force, following Frontier Institute recommendations to address Montana's burden of harmful red tape and regulations.
The common misconception is that Montana is already economically free. In reality, Montana has the second-most regulatory restrictions per capita among its regional neighbors, trailing only Wyoming and being well ahead of Colorado, Idaho and Utah.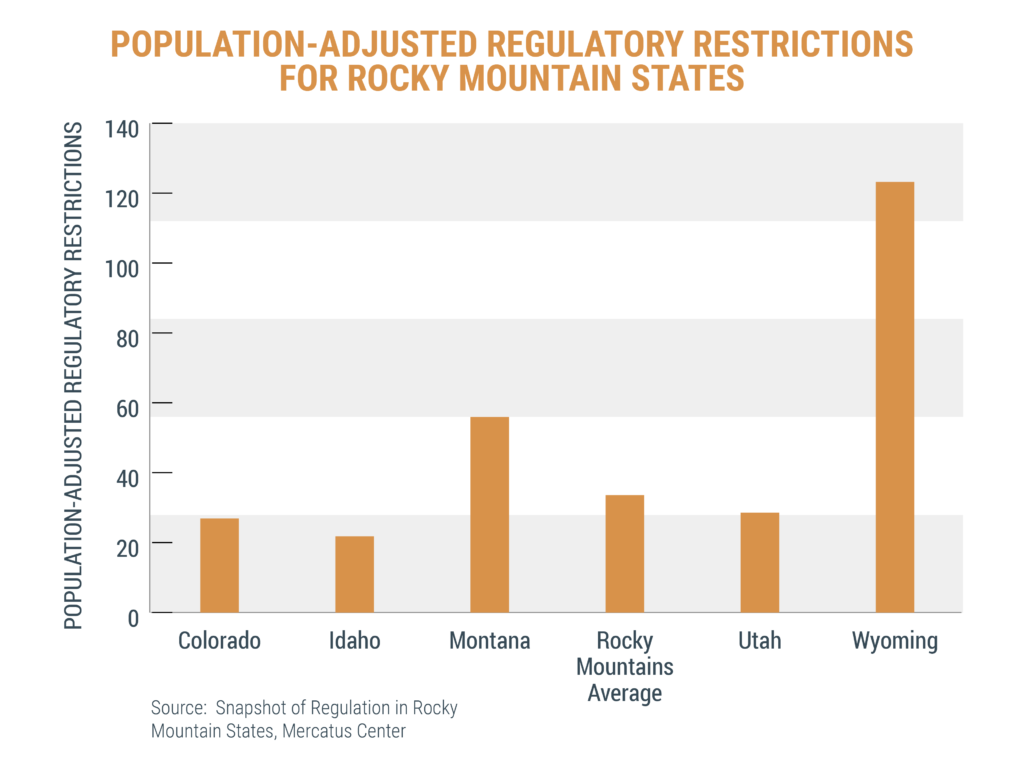 That's why the Governor's Red Tape Initiative is so important. Montana must reduce its burden of unnecessary regulations and red tape in order for our state's economy to be competitive.
Part of the problem we've identified has been zero accountability for the growth of regulations. While regulators are required by law to review their regulations every two years, the identification of regulations to be repealed or simplified has historically been done ad hoc. On top of that, Montana imposes no limits on the total amount of regulations, removing any incentive to review and actively restrain the accumulation of regulations.
Thankfully, new tools are starting to become available to Montanans so we can push back. Instead of waiting on regulators to self-police, the Office of the Governor published a portal on the state's website where anyone can identify and report unnecessary and outdated regulations that might impact them.
Find the portal here.
We'll be submitting our recommendations. You should too!
For Liberty,
Kendall Cotton
…
Our Take
Now more than ever Montanans will need access to affordable housing options. The answer from experts is clear: numerous local regulations prevent building enough homes to meet demand, driving up the cost of housing. Local governments should review their zoning and building codes to remove costly regulatory barriers to new building new houses. Officials can consider streamlining permitting and addressing overly restrictive regulations like single-family zoning, minimum lot sizes, parking requirements and height limitations that drive up the cost of housing development.
Licensing
According to the Montana Free Press, licensing has become an obstacle for rural schools. In some rural areas, it takes so long for a teacher to get certified that it leads to a shortage. The 137 rural schools that employ unlicensed teachers in Montana risk losing funds but need more teachers, licensed or not.
According to one association official, regulators are seeking "a reason to deny [a license] instead of figuring out if there's a reason to grant one." 
Our Take:
As we outlined in our introduction, Montana regulators have faced little accountability for years. There has been no firm requirement to scrutinize outdated or burdensome processes. The mandate for bureaucrats should instead be to find ways to make their regulations work better for Montanans, not make Montanans work to comply.
Manage our forests
Governor Greg Gianforte announced last Wednesday the approval of various active management projects associated with the Montana Forest Action Plan.
"These 14 active management projects across the state will create more resilient forests, improve wildlife habitat, increase recreational opportunities, and support local economies with good-paying jobs in the forest products industry." – Governor Gianforte
Our Take:
If we don't manage our forests, they are going to manage us. Montana's forests have become tinderboxes, overloaded with dense fuel for fires thanks to decades of poor management and "hands off" policy. We know that more active forest management like selective logging, fuel reduction and prescribed burns are more effective at mitigating unnaturally severe wildfires. We are glad to see Governor Gianforte taking the lead on this important issue.